Zoe Tee's inspired by Gwyneth Paltrow
She has been voted the "Best Dressed Celebrity" by the British, and when Gwyneth Paltrow was tempted to work with the Parisian brand Zoe Tee's she found herself at the heart of a collection entitled "ZOEtee's Loves Gwyneth Paltrow". Casual yet chic, the collection will be released next winter.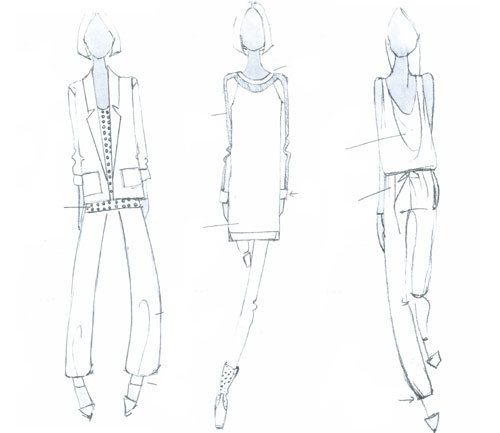 Sketch of the Zoetee's Loves Gwyneth Paltrow collection
"Designing a collection for Gwyneth has been an opportunity to combine quality materials and daring lines inspired by the style of a global icon… any stylist's dream," Michele Corty, stylist for Zoe Tee's admitted. In the end, there are seven designs to discover; basic, nonchalant, casual but always with a touch of glamour.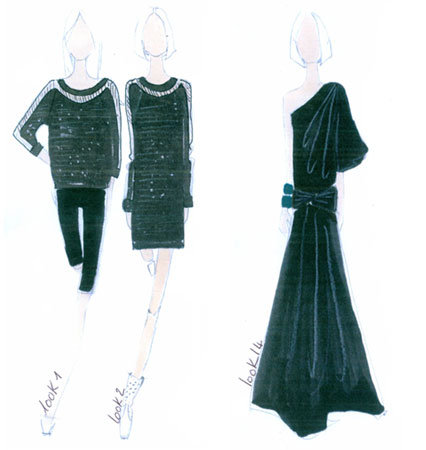 Sketch of the Zoetee's Loves Gwyneth Paltrow collection
You'll find tops with linen tulle inlays, or entirely studded, evening dresses in blended cashmere, vintage styled sweatshirts, or even slips and leggings made from recycled cotton. These pieces have been created fully in the spirit of the label as, since its debut in 2006, Zoe Tee's has made basics its strong point by bringing in a light touch of sophistication.
Easy to wear, the brand, which is also the younger sister of American Retro, is continuing to climb in the fashion world and should become an even more visible international name in the future – it has more than 500 points of sale throughout the world – more so with an ambassador like Gwyneth Paltrow for whom even the smallest of appearances is subject to scrutiny from the fashion world and glossy magazines.
And when you find out that all the profits from this mini-collection will be donated to the charity Kid's Company who help British children and adolescents in difficulty, you know that you'll be bringing something from Zoe Tee's home with you next winter.
By Jonathan Fulwell (Source: Emilie-Alice Fabrizi)
Copyright © 2022 FashionNetwork.com All rights reserved.