Fast Retailing: not too late to jump on?
By Taiga Uranaka
TOKYO, March 27 (Reuters) - Japan is in recession and consumers are tightening their belts, but Fast Retailing (9983.T) is bucking the retail downturn and enjoying strong sales at its Uniqlo casual clothing store chain.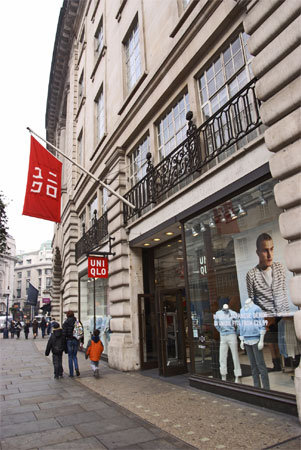 Uniqlo store, Regent Street - London
The retailer's shares have dropped recently, but its 12-month gain of about 32 percent is a mirror image of the fall in the benchmark Nikkei average .N225 and Tokyo's retail subindex .IRETL.T.
As exporters and domestic demand-oriented companies are battered by the global economic turmoil, Uniqlo's same-store sales in Japan rose 12.9 percent in the six months to February, beating its own forecast for 9.6 percent growth.
The chain has attracted thrifty consumers with low-price but quality basic garments, while also rolling out hit products like its "Heattech" line of heat-trapping inner wear for winter.
In a poll of 13 analysts who issued reports this year, Fast Retailing has five "buy" ratings, two "outperform" and six "neutral" -- but have its shares already priced in its outsized gains in what is Japan's worst retail slump in a generation?
STILL A BUY
"In my 40-year career, there have always been stocks that rise even in the middle of steep market falls, and I think Fast Retailing is one of them," said Yoshihiro Ito, a senior strategist at Okasan Asset Management.
"We may start seeing profit-taking kick in if the shares are bought up to like 40 times earnings, but it's not yet at that level," he said, noting Fast Retailing shares were trading at about 22 times estimated earnings for the year to August, compared with about 14 times for the Tokyo stock exchange's retail subindex.
Mitsushige Akino, chief fund manager at Ichiyoshi Investment Management, said Fast Retailing shares may see short-term dips as some investors needing cash are forced to sell stocks. But the stock was ripe for those with a long-term investment stance.
"I think the company's business will grow further. Unless the global economy takes a sudden turn for the better, Fast Retailing's advantage is likely to become more pronounced," Akino said.
HOLD ON
But some fund managers warned that a stronger performance could raise expectations to a point where it would be harder to satisfy investors, raising the risk of disappointment.
"I know Fast Retailing is doing well. But the market is becoming less responsive to good news, and now it's more likely to react sharply to bad news," said Naoki Fujiwara, fund manager at Shinkin Asset Management.
"I think bad news would trigger heavy selling," he said.
Harfun Ven, senior portfolio manager for Asia Pacific equities with Robeco in Hong Kong, said Fast Retailing shares now look "a bit pricy", given Japan's retail environment.
"(Retail stock) valuations are quite attractive, generally speaking, across the board, and book values are really low. But for retailers in Japan, they are always relatively expensive versus the market, especially when there's no growth there."
Ven also pointed to a competitive environment for retailers in Japan and an ageing population. (Additional reporting by Kevin Plumberg in HONG KONG) (Editing by Dhara Ranasinghe)
© Thomson Reuters 2022 All rights reserved.