Dolce & Gabbana reflect relaxed lifestyle for men
By Marie-Louise Gumuchian
MILAN (Reuters) - Italian designer team Dolce & Gabbana kicked off Milan's fashion week in relaxed style on Saturday, taking inspiration from oriental kimonos to kit out men in silk evening pajamas for next summer.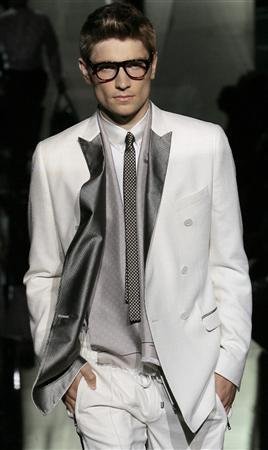 Asian-style prints of dragons and butterflies decorated robes and shorts in black, white, grey, sepia and ivory for the duo's signature line. Naomi Campbell modeled one of their designs as part of the spring/summer 2009 menswear collections.
Evening jackets teamed with black trousers also sported the prints, in a collection said to reflect "the relaxed lifestyle of the modern man".
A variety of light and dark blues, and natural hues from beige to brown, were used for formal striped suits and casual wear, topped on the runway with dark-rimmed glasses.
Stefano Gabbana and Domenico Dolce tucked tight-fitting shirts -- often diagonally-striped, with small bow ties or chine jersey shirts with cotton collars and cuffs -- into drawstring trousers with a loose leg, or paired suits with bow and skinny ties. Jackets had small shawl lapels, single- or double-breasted.
The designers used crocodile and suede for jackets and for limited edition sneakers that also came in mixed leathers.
Models, some of whom were sent out with double-handled bags, wore python, crocodile, eel or patent leather sandals, as well as slippers in various leathers and colors.
The designers, whose show was watched by pop singer Fergie, will show off their more informal line, D&G, on June 24.
GARDEN INSPIRES
At Burberry Prorsum, designer Christopher Bailey looked to the garden for his "Crumpled Classics" collection, sending crumpled shirts, jackets, coats and hats down the catwalk.
Bailey, who said he went back to the Burberry archives to find a starting point for his collection, used unstructured tailoring and earthy colors -- smoky and musty green, sage, mauve, lavender, charcoal, brown and citrine.
"I wanted it to feel very neutral, I liked this idea of a garden," Bailey told Reuters backstage.
Rain-splatter prints, crochet knits and detailing and reinforced seams stood out. Shirts with white collars and cuffs were left untucked, some teamed with light knitwear.
Bailey accessorized with battered Panama gardening hats and check canvas and oversized leather totes.
Versace, a favorite with celebrities, made to change the face of formal wear, showing jackets with no- or doubled collars, and wings instead of buttons on the front of trenches.
Design head Donatella Versace rolled up sleeves and squared-off shirt hems as part of a collection summarized as "formal attitude, informal mindset".
In place of ties, models wore narrow silk scarves in white or pale colors, also sporting sunglasses with brightly-colored rims. Trousers were both slimmer and wider-style.
Versace used new fabrics such as techno taffeta, a type of nylon with a modified structure that resembled washed silk, and left out check patterns for a fresher take on stripes.
Flashes of pink, orange, mint and lilac on scarves, bags or sandals added color to sandy or grey tops and trousers, while some models were dressed all in black for the show, watched by pop singer Janet Jackson and actor Rupert Everett.
Milan's spring and summer 2009 menswear shows run until June 24. More than 40 designers are holding catwalk shows.
(Editing by Catherine Evans)
© Thomson Reuters 2022 All rights reserved.