Coldwater Creek Q2 profit beats estimates
Aug 27 (Reuters) - Women's apparel retailer Coldwater Creek Inc posted a better-than-expected quarterly profit, helped by reduced inventory levels and lower expenses and reaffirmed its outlook for the third and fourth quarters.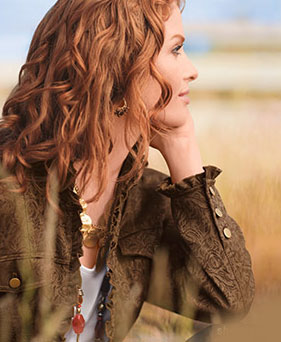 Coldwater Creek campaign
But the company, which caters to middle- and upper-income women between the ages of 35 and 60, said it was "cautious" about the outlook for the remainder of fiscal 2008 given the challenging macro environment.
Coldwater, which has stores in malls and mail order business, posted a profit of $3.1 million, or 3 cents a share, for the second quarter ended Aug. 2. It earned $8.7 million, or 9 cents a share, in the year-ago period.
Net sales fell nearly 5 percent to $241.4 million due to decrease in retail store traffic and lower direct channel sales.
The latest quarter included a non-cash charge of 1 cent a share related to the impairment of certain Coldwater Creek day spa locations.
Analysts on average expected earnings of 1 cent a share, before special items, on revenue of $243.2 million, according to Reuters Estimates.
The company, which competes with Talbots Inc , Chico's FAS Inc and AnnTaylor Stores Corp , said sales at stores open at least a year declined 13.7 percent during the quarter.
Selling, general and administrative expenses fell about 10 percent to $88.5 million, partly due to reduced marketing spend. Total inventory decreased 17.3 percent to $127.1 million.
Shares of the Sandpoint, Idaho-based company were trading at $6.78 after the bell. They closed up 7 percent at $6.94 Wednesday on Nasdaq. (Reporting by Dilipp S. Nag in Bangalore; Editing by Deepak Kannan)
© Thomson Reuters 2022 All rights reserved.