US clothing stores saw Nov reprieve despite slump
By Alexandria Sage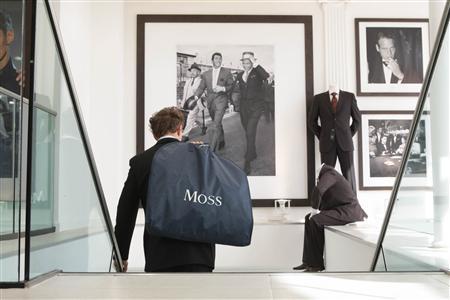 SAN FRANCISCO, Dec 4 (Reuters) - U.S. consumers struggling with recession were willing to shop more for clothes in November because of extreme discounting and colder weather after months of avoiding apparel purchases. Even though same-store apparel sales fell by 10.5 percent, the decline was not as bad as some investors had expected, so shares in the sector rebounded on Thursday.
U.S. apparel stores were helped late last month by the Thanksgiving holiday weekend, when many retailers attracted shoppers with discounts of 50 percent or even more.
Gap stores were packed on Black Friday, the day after Thanksgiving, and teen retailer Aeropostale said its stores were "maxed out" with shoppers in search of deals on its casual apparel.
Shoppers headed to Macy's Inc across the country with coupons in hand, while even luxury shoppers were surprised to take advantage of deep discounts on designer clothing at Saks. Although many retailers posted substantial sales declines, bright spots that beat Wall Street estimates included Gap, American Eagle Outfitters Inc , Saks Inc and Pacific Sunwear of California Inc .
"Numbers across the board were pretty bad but there were a lot of numbers that were less bad, so it is somewhat a game of expectation," said Needham & Co analyst Christine Chen.
While overall retail same-store sales in November dropped 2.1 percent, apparel sales fell 10.5 percent, according to Thomson Reuters Estimates. [nN04410891]
Although that data reflects the struggles of retailers who sell apparel versus discount chains like Wal-Mart Stores Inc , it was better than the 11.5 percent drop expected, on average, by analysts.
The Dow Jones U.S. Apparel Retail Index .DJUSRA rose as high as 5.7 percent on Thursday, even though the Dow Jones industrial average .DJI fell 2.5 percent on the day. Shares of Talbots Inc , AnnTaylor Stores Corp , Collective Brands Inc , and Buckle Inc rose in the double digits.
'MEDIOCRE BAD'
"People looked at the numbers, realized the world hadn't ended and took a deep breath. And that's what we're seeing today in the market," said Brean Murray Carret analyst Eric Beder, who characterized November sales as "mediocre bad" as opposed to "incredibly bad."
"November (is) likely the nadir," wrote Lazard analyst Todd Slater in a note.
A U.S. recession has hurt apparel retailers more than other store chains.
Wardrobe updates are largely viewed as nice to have, but hardly crucial. For much of 2008, shoppers have been spending their dollars instead on necessities like food or gasoline, or pressing bills like rent or heating.
A lack of novel fashions has also inspired a ho-hum attitude on the part of shoppers.
But knowing consumers' spending constraints, retailers who heavily discounted merchandise after Thanksgiving attracted shoppers who could no longer resist.
"Most retailers did call out that Black Friday was good and was up, whereas going into it there was a lot of thought that Black Friday would just not happen," Chen said. "The market tends to be somewhat forward-looking."
Weather also gave a boost. Planalytics, which measures the effect of weather on retailers, found that weather on Black Friday was "ideal," drier than normal in most places, with cooler weather in the East fueling purchases of winter apparel.
Lower gasoline prices may give an additional incentive for people to spend during December, analysts said.
TNS Retail Forward, a consultancy and market research firm, warned of "grim" holiday sales, but suggested that a bottom may have been reached.
Shares of Talbots and Coldwater Creek rose 68 percent and 16 percent, respectively. Gap shares rose 2.3 percent, Charlotte Russe rose 9.6 percent and J Crew rose 10.4 percent.
Even apparel retailers whose sales missed expectations got a boost. Shares of Abercrombie & Fitch rose as high as 13 percent even though a 28 percent drop in November same-store sales was below Wall Street estimates.
(Additional reporting by Martinne Geller in New York, editing by Michele Gershberg and Matthew Lewis)
(([email protected], +1-415-677-3923; Reuters Messaging: [email protected])) See here for Reuters holiday coverage and blogs.reuters.com/shop-talk/ for Shop Talk -- Reuters' retail and consumer blog. Keywords: USA RETAIL/APPAREL Keywords: USA RETAIL/APPAREL Keywords: USA RETAIL/APPAREL
(C) Reuters 2008. All rights reserved. Republication or redistribution ofReuters content, including by caching, framing or similar means, is expresslyprohibited without the prior written consent of Reuters. Reuters and the Reuterssphere logo are registered trademarks and trademarks of the Reuters group ofcompanies around the world.nN04414224
© Thomson Reuters 2023 All rights reserved.