In Japan, Miss Universe highlights new idea of beauty
TOKYO, July 13, 2008 (AFP) - Covering her face with her hands, 20-year-old Riyo Mori of Japan heard the MC's voice and the thunderous cheering of the crowd telling one year ago that she was the new Miss Universe.
With a 250,000-dollar tiara on her head, Mori walked confidently on the stage as Japan's first Miss Universe in 48 years as an estimated one billion people watched around the world on television.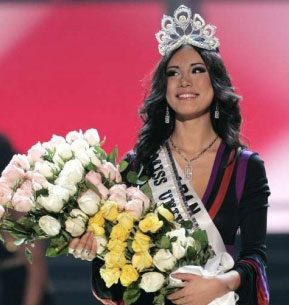 Riyo Mori, Miss Universe 2007
But it was not only Mori who was surprised. Watching back in Tokyo, Madoka Niino, a 28-year-old working in an advertising agency, thought that perceptions of beauty in Japan were finally changing.
"Beautiful women traditionally were supposed to be reticent and dedicated," she said, pointing to the portrayal of Japanese women in Hollywood.
On Monday 14th of july, 21-year-old Hiroko Mima, who was chosen among 4,000 candidates here, will represent Japan in hopes that the country can retain its newfound status as a beauty pageant powerhouse.
Ines Ligron, a French woman who has trained Japanese contestants for Miss Universe for 10 years, sees an evolution in Japanese women.
"They are becoming much more outgoing, confident and opinionated. They feel free to challenge themselves on a global level, which was unheard of before," Ligron told AFP.
Mori is hoping to start her own dance school in Japan. In 2006, Kurara Chibana was runner-up in the Miss Universe competition and is hoping to work internationally as a reporter.
Beniko Kishi, the CEO of a company that runs several beauty and lifestyle brands, said Japan was a very different place than in the years after World War II, when Western concepts of beauty were held on a pedestal.
"Since the end of the war, Japanese had been blindly following the Western standard of beauty and they tried so hard to imitate and look like Western models or actresses regardless of our physical differences," she said.
"But in recent years, Japanese have stopped looking only outside and started looking inside again. They are beginning to find their identity (of) being beautiful in the way they are," she said.
The change can be seen in the advertising world, where Japanese models and actresses have replaced Westerners as the faces of beauty products.
Leading cosmetic maker Shiseido recently launched an advertising campaign for its Tsubaki shampoo with the slogan, "Japanese women are beautiful."
"Women today choose products and services for their own measurements. They always ask themselves if it suits for them," Kishi said.
She said that the trend extended beyond appearance. More women are flocking to fitness and yoga clubs or choosing to eat organic food.
"Women now know that beauty is growing from the inside. You cannot hide it with expensive cosmetics anymore, so it is essential to look closely inside and to build a better condition," Kishi said.
Tokyo and other big Japanese cities have witnessed a boom in after-hours schools where women can take how-to advice in beauty and lifestyle and earn certificates.
"Recently I feel that there is a belief that women are considered to be beautiful when they strike a perfect balance between their career, household and beauty," said Mikiko Koyama, a 25-year-old consultant.
Ligron said she was trying to give Japanese contestants in Miss Universe more self-confidence and not simply focusing on their appearance.
"I personally hate the idea of 'beauty queens' because I would never consider manufacturing packaged-women to represent their countries on a global stage. Instead, I try to enhance the best of their personalities and minds and try to place invisible wings for them to fly high," she said.
She defended Miss Universe from critics who charge that beauty pageants demean women by putting them in a competition for approval.
"10 years ago, I believed that beauty pageants were just a joke -- old-fashioned and completely empty of any outcome for the girls entering them," she admitted.
But she said that with the Miss Universe Organisation, "I started to understand the reward of helping young girls find their inner beauties."
"Now I believe what beauty pageants teach young girls is how to achieve their goals in life. It teaches them to believe in themselves," she said.by Kanako Nakanishi
Copyright © 2022 AFP. All rights reserved. All information displayed in this section (dispatches, photographs, logos) are protected by intellectual property rights owned by Agence France-Presse. As a consequence you may not copy, reproduce, modify, transmit, publish, display or in any way commercially exploit any of the contents of this section without the prior written consent of Agence France-Presses.