Gruppo Coin sales in line with 2007 so far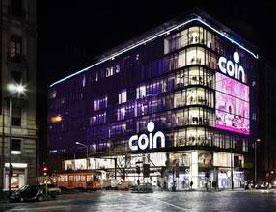 www.GruppoCoin.com
* November sales in line with 2007
* Weather having more impact on sales than recession
* CEO says will not propose dividend
(Adds more quotes, details)
By Marie-Louise Gumuchian and Cristina Carlevaro
MILAN (Reuters) - Sales at Italian department store chain Gruppo Coin have so far been "exactly" in line with last year, with the weather having more of an impact than the recession, Chief Executive Stefano Beraldo said on Monday.
"Business at this time, before Christmas, is going exactly like a year ago," Beraldo told Reuters in a telephone interview.
"November closed substantially in line (with last year)."
In the first half of November, when the weather was warmer, sales fell 10 percent, he said. After Nov. 15, once it started getting colder, sales rose 10-15 percent as people bought winter clothes.
"The weather up till now has been more significant than the recession in explaining how sales have gone," he said, adding it was too early to forecast how Christmas sales would go.
Some retailers have cut prices and offered promotions to attract shoppers -- who have been scared off by the prospect of a global recession -- and avoid being left with piles of unsold stock.
British department store group Debenhams last month extended its pre-Christmas sale by two days.
Beraldo said Coin, which sells clothes, home decorations, accessories and beauty products, was not doing anything more than the usual promotions to push Christmas shopping.
"I don't think forcing consumption before Christmas with discounts produces particularly interesting results," he said.
Looking to next year, he said "prudence is the dominating theme."
"We are prudent on purchases and we are increasing our fast fashion quota in our collections so that we can quickly react if the recession is less strong than expected," he said.
"We are not reducing orders in the way we hear many are doing."
Beraldo also said he would not propose the distribution of a dividend. "I will not propose a dividend even if there is cash and profits. The shareholders will decide but I would be surprised if they do not accept my recommendation," he said.
"It is better to keep cash and make investments, like for Melablu," he said, referring to the clothing retailer Coin agreed to buy in October. Coin did not pay a dividend last year.
Coin -- whose financial year runs to Jan. 31, 2009 -- is due to report third-quarter results next week. It closed its last financial year with a net profit of 43.5 million euros, up 322 percent from the previous same period.
Beraldo said Coin had made an "extremely serious" offer for fellow Italian retailer Upim in the autumn, which was rejected. He said it was not looking at any other potential acquisitions at the moment.
"We do not want to relaunch an offer (for Upim)," he said.
The group, whose bulk of sales come from Italy, is looking to expand Coin and its retail Oviesse unit abroad, especially in eastern Europe.
Beraldo said Oviesse would have 70-80 shops outside Italy by the end of next year from a current 40. It will open Coin sales points in Belgrade and Budapest and there were talks for an opening in Tirana.
At 1200 GMT, shares in Coin were flat at 2.0075 euros.
(Editing by Andrew Macdonald)
© Thomson Reuters 2023 All rights reserved.