Environmentally friendly design ; it's in the bag
Remember, ecological packaging was, not so long ago, only a minor genre in the design world, or worse an uncreative area where only talking of recycling had currency. These prejudices should by and large be put to rest from now on after the exposition 'Eco'Pack Attitude' organised by the Designpack gallery in Paris: a playful voyage to the heart of eco-design attacking our prejudices head on.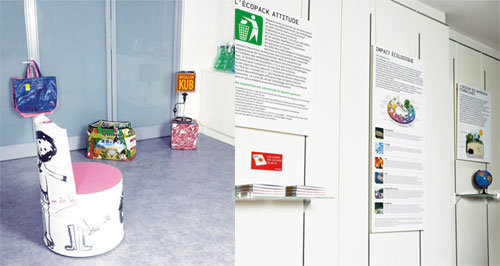 Exhibits from the exposition Eco'Pack attitude
The life-cycle of materials is highlighted in their innovative use in hand-made items and works of art, the more "eco-sensible" can even be made at home. Eco'Pack Attitude is showcasing a wide-view of the issues. Metals, plastics, glass and other everyday materials are on the menu, from their origin to their recycling. This will be a huge building-site of creation for designers who are betting on ecodesign taking off.
The exposition is has also been designed to apply the brakes to a large number of our supposed priorities; all the more important for a modern consumer society with near saturation of packaging. Discover the uncensored show from 9-24 May on the Rue de Richelieu in Paris.
By Jonathan Fulwell (Source: Emilie-Alice Fabrizi)
Copyright © 2022 FashionNetwork.com All rights reserved.