China faces new challenge in trade rebalancing act
By Wei Gu
HONG KONG, Aug 27 (Reuters) - China may have overwhelmed the United States -- not to mention the rest of the world -- in its quest for Olympic gold, but when it comes to trade China may be losing its edge.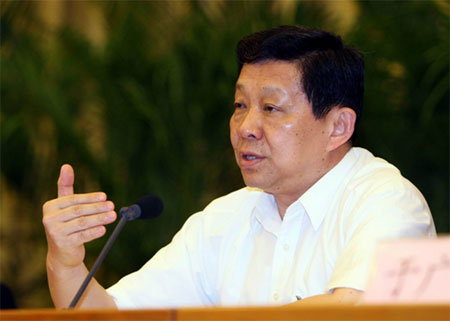 Mr Chen Deming, chinese Minister of trade
A spate of factors including a weak dollar, sluggish U.S. demand and high commodity prices have started to rebalance the trade accounts of both Beijing and Washington.
Experts agree that is not necessarily a bad thing. The question is whether China can do the rebalancing without a hard landing.
The exports that have helped to fuel 30 years of China's growth need to be balanced by more domestic consumption in the future. And policymakers who have focused on keeping growth at a breakneck pace now need to pay more attention to sectors that are more energy-efficient and pollute less.
"China's trade surplus might come down significantly if the government is serious about rebalancing the economy, and it is something that we would like to see," Bin Zhang, an economist at the research centre for international finance at the Chinese Academy of Social Sciences, said in a report.
"Whether that will happen depends on the authorities' political wisdom and will in fighting against certain interest groups," he added.
Exporters have been lobbying for export rebates and slower yuan appreciation. Local governments and the Ministry of Commerce are on their side because they count on the export sector to create jobs.
TIDE HAS TURNED
Just before the Olympics, for the first time in years, China's exports grew more slowly than America's. June exports were up 17 percent from a year earlier compared with 23 percent in the United States.
China's dollar-denominated trade surplus and the U.S. trade deficit are both stabilising and even shrinking this year, and the trend is even more telling measured in yuan.
By that measure, China's export growth has slowed steadily for the last 18 months, said China research firm Dragonomics, adding growth will slow further if Europe heads into recession.
The figures may have been distorted by high commodity prices but that would have affected the import bills of both China and the United States.
Economists agree the tide has turned.
"The trend is turning," said Hong Liang, outgoing China economist of Goldman Sachs. "For those who said yuan appreciation won't help adjust the trade balance, the changes in U.S.-China trade dynamics are proving them wrong."
Only in recent years has it become clear to the Chinese that the growth model that has helped it become the world's fourth largest economy comes at a price, including the overuse of energy, underpaid labour and low returns on the country's massive reserves of foreign exchange.
Although Chinese authorities have said they want a more balanced economy, weaning China off the voracious American consumer will not be easy.
Rebalancing the global economy means a redistribution of global wealth, back in America's favour. And America's gain has caused pain in much of the rest of the world.
The strong euro has caused Europe's overall trade surplus to turn into a trade deficit, while China's slowdown in exports has slowed its economic growth to about 10 percent from almost 12 percent just a year ago.
Conventional wisdom has it that growth of less than 8 percent is the equivalent of a recession in China, which could lead to massive job losses and social instability. So it's no wonder that some fear Beijing might panic and restore all sorts of protective measures to stimulate exports again.
There are signs of movement in that direction -- China recently increased export tax rebates for textile companies and slowed the pace of yuan appreciation to help reduce pressure on exporters.
"The government may continue to come up with measures to try to soften the blow," said Tao Wang, China economist of UBS Securities. "But the overwhelming global slowdown would still mean a slowdown in export growth for a while."
"Whether China can continue to reduce its reliance on exports will depend on whether the government will implement rebalancing policies," Wang added.
Many economists believe that instead of rushing to rescue exports, Beijing should boost domestic investment -- and thereby domestic demand -- to make up for the loss. China is on track to record another budget surplus this year and can well afford more spending on social welfare and infrastructure.
Chinese authorities have been notoriously unwilling to spend because they want to leave a cushion for the expected huge potential costs for financing healthcare and retirement for its 1.3 billion people.
The Academy of Social Sciences has suggested private investors could play a role, urging Beijing to encourage investment in healthcare, finance and education.
The leading government think-tank has also argued that policy makers should allow fast yuan appreciation, scrap subsidies to export-oriented foreign ventures and increase taxes on industries that are heavy polluters and users of energy.
"China should loosen up on consumption-related sectors and tighten up on exporters," said Zhang. "Do not be afraid to let some low-value exports languish and die."
(At the time of publication Wei Gu did not own any direct investments in securities mentioned in this article. She may be an owner indirectly as an investor in a fund.)
(Editing by Ken Wills and Sonya Hepinstall)
© Thomson Reuters 2022 All rights reserved.